2023 Night Bloom: Grants for Artists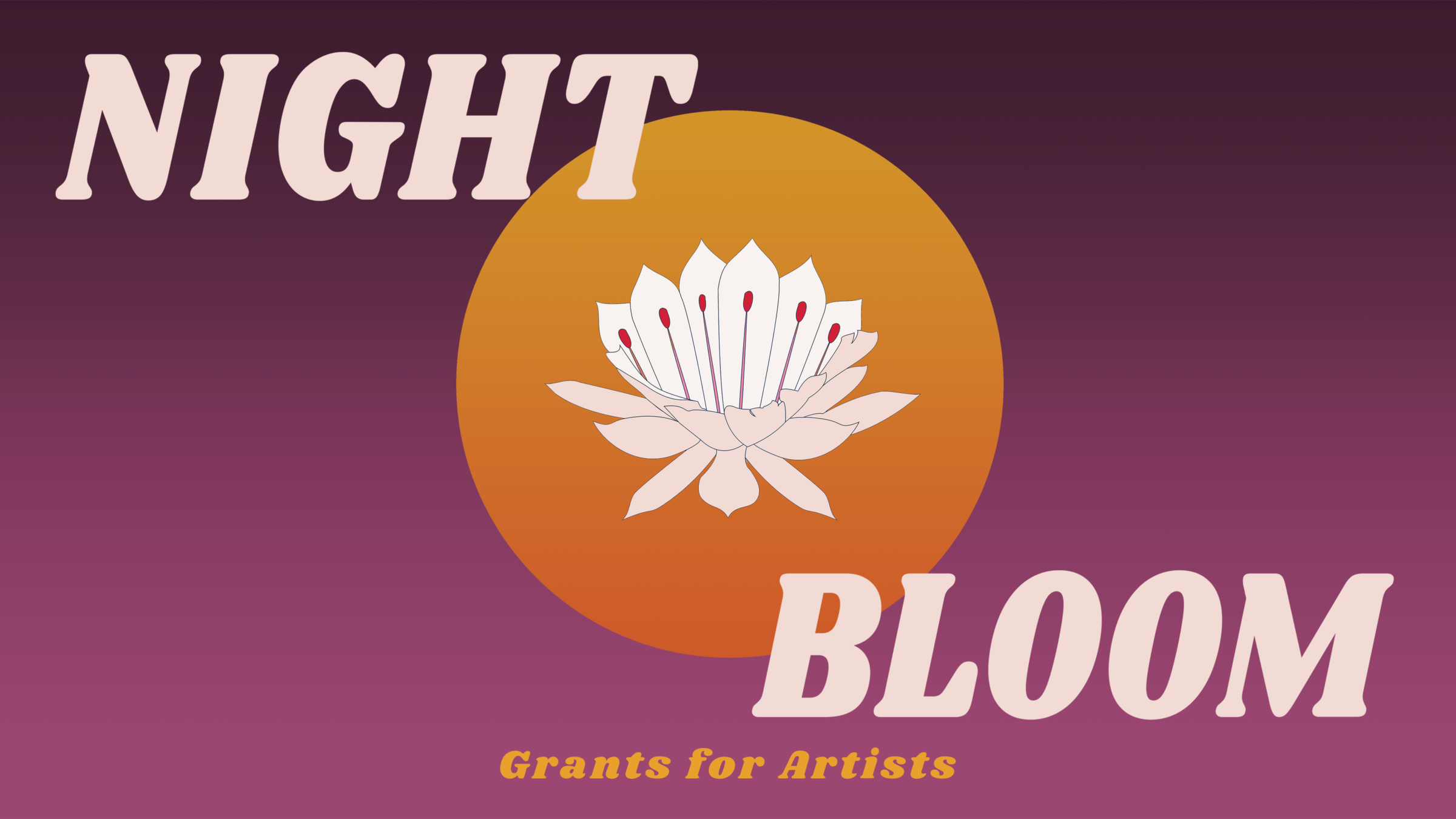 2023 Night Bloom: Grants for Artists - Application Guidelines
About this grant:
The 2023 Night Bloom Grant for Artists supports collaboratively-focused visual arts projects by individual artists and artist groups within Tucson and the broader Sonoran Desert region. This grant supports efforts to create experimental and community-embedded opportunities for artistic exchange that engage with the region's unique contexts and possibilities. Eligible projects must be accessible to the public.
Night Bloom: Grants for Artists is organized by MOCA Tucson in partnership with the Andy Warhol Foundation for the Visual Arts.
Grant Award Amounts: $5,000 - $7,500
Important Dates:
Application opens: March 6, 2023
Application deadline: April 20, 2023
Notification of grant award by: June 9, 2023
Grant funds disbursed: June - July 2023
Grant funded activities: July 2023 - June 2024
Application Guidelines:
PDF of Application Guidelines here – English
PDF de las Directrices de Solicitud aquí – Español
Application Instructions
Saving: Save your Night Bloom: Grants for Artists application as you work on it by clicking the "Save Draft" button located at the end of this webpage. You can log out and log back in, take a break, or work on your application over several days without losing your information.
Collaboration: If multiple people will be contributing to your application, invite them to collaborate by clicking on the "Invite Collaborators" button located at the top right of this webpage.
Required Questions: Questions marked with a red asterisk '*' must be completed before you submit your application. You will not be able to submit your application if any required questions have been left unanswered.
Submitting: Once you have completed your Application, click the "Submit" button at the end of this webpage. You will receive an automated email confirming that your application has been successfully submitted.
Print or download a copy of your application by navigating to your "Personal Submissions" account list. Click on your application submission. This will open up the submission's details page, where you can click the Download button in the upper right of the viewing box.
Questions?
Contact us at: nightbloom@moca-tucson.org
--
Acerca de esta subvención:
Night Bloom: Subvención para Artistas apoya el ecosistema artístico en el área metropolitana de Tucson a través de la financiación de proyectos de artes visuales centrados en la colaboración por artistas individuales y grupos de artistas dentro de Tucson y la región más amplia del desierto de Sonora. Las subvenciones cuyos montos oscilan entre los $5,000 a los $7,500 apoyan los esfuerzos para crear oportunidades experimentales e integradas en la comunidad para el intercambio artístico que se involucran con los contextos y posibilidades únicos de la región.
Night Bloom: Subvención para Artistas está organizado por MOCA Tucson en asociación con la Fundación Andy Warhol para las Artes Visuales.
Monto de la Subvención: $5,000 – $7,500
Fechas importantes:
Las solicitudes abren: 6 de marzo de 2023
Fecha límite para la solicitud: 20 de abril de 2023
Notificación de la concesión de la subvención: 9 de junio de 2023
Entrega de los fondos de la subvención: Junio-julio de 2023
Actividades financiadas por la subvención: Julio de 2023 – junio de 2024
Directrices de Solicitud:
PDF de las Directrices de Solicitud aquí
¿Tienes más preguntas?
Comunícate con nosotros: nightbloom@moca-tucson.org